The Palm Harness™ offers greater support for easy and safe lifting, while helping reduce stress to hand and fingers. The lower profile shape, lightweight and contoured ergonomic design, fits comfortably inside the palm of the hand allowing enhanced injury protection and prevention.
This device is easily controlled because the finger loop is placed around the middle fingers of each hand. The loop is secured to the lightweight hook, allowing it to remain in contact with the fingers and follow the motion of the hand without impeding hold or release.
The Palm Harness™ is durable enough to handle extreme loads, yet light and easy to use with or without gloves.
The Palm Harness™ is composed of two parts, the adjustable wrist strap and the palm strap with finger loop. The two parts can be adjusted to fit your hand size comfortably.
Benefits:
More secure grip.
Greater control.
Reduced finger fatigue.
Aid in cold weather.
Supports the wrist.
US Patent #6,834,39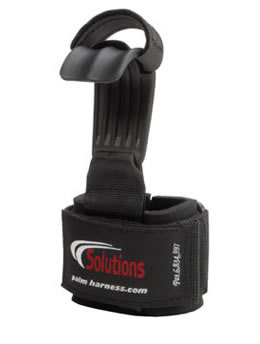 Palm Harness™ PH10100 (Black)
Palm Harness® Categories: