Health Aid & Rehabilitation
The Palm Harness™ offers beneficial support for easier and safer lifting while helping reduce stress to the hand and fingers. The low profile shape, lightweight and contoured ergonomic design fits comfortably inside the palm of the hand, allowing enhanced injury protection and prevention.
The patented Palm Harness™ is designed to provide you with the optimal support you need, while assuring proper fit and comfort. It helps treat and support weak muscles and helps reduce the chance of injury recurrence.
Easy on and off
Pull strap through plastic loop and fasten for a snug fit. Adjust as needed for customized fit. Able to be worn on the right and left wrist.
Comfort
Constructed with a compression control strap with fabric-backed neoprene featuring trimmed edges to prevent irritation or chaffing, relieving pain and increasing support.
Solutions™ assures you of superior quality, support and comfort.
US Patent #6,834,39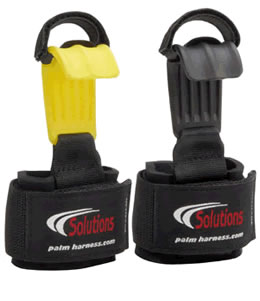 Palm Harness™ PH10200 (Yellow) and PH10100 (Black)
Palm Harness® Categories: