The Palm Harness™ Pro offers beneficial support for easier and safer lifting while helping reduce stress to the hand and fingers. The ergonomically designed hook fits perfectly in any hand. A thin profile and finger-shaped contour gives strength and comfort while supporting the wrists.
Control
The Palm Harness™ Pro has excellent control because the finger loop is placed around the middle fingers of each hand. The Loop is secured to the lightweight hook, allowing it to remain in contact with your fingers and follow the motion of each hand without impeding hold or release.
Easy On and Off
Pull wrist strap through plastic loop and fasten for a snug fit. Adjust as needed for a customized fit. Able to be worn on the right and left wrist.
Comfort
Constructed with a compression control strap, the fabric-backed neoprene features trimmed edges to prevent irritation or chaffing, relieving strain and increasing support.
Durable enough to handle extreme loads or high impact, yet it is light and easy to use with or without a glove.
Lift with support and confidence.
Adjustable – One size fits all.
Benefits:
Greater power for lifts, curls, chin-ups, pull-downs, dips, rowing and more…
Hook design allows easy on/off application.
Less finger fatigue
More secure grip
Safer lifting
Exceeds the limits of ordinary lifting straps and gloves
Excellent support and protection for both pushing and pulling exercises
Solutions Dept. US Patent #6,834,397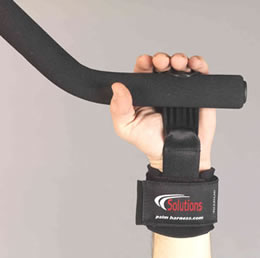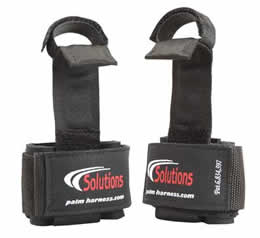 Palm Harness™ PRO (Black)
Palm Harness® Categories: