PALM HARNESS® PS
This innovative device allows easier and safer lifting while helping to reduce stress to the hands and fingers.
The Palm Harness® offers beneficial support and aid while handling shipping tubs, bins and carts.
The low profile shape, lightweight and contoured design fits comfortably inside the palm of the hand. It is designed to provide optimal support reducing muscle fatigue, cramping, calluses and blisters.
The ergonomic handling capabilities result in improved workflow, supports the wrist, yet allows free motion of the hands.
Control of this device is by the use of the finger loop placed around fingers of each hand. The finger loop is secured to the lightweight hook, allowing it to remain in contact with your fingers and follow the motion of each hand without impeding hold or release of the Palm Harness®.
Support For:
Repetitive Motion
Long Periods of Lifting
Heavy Handling
Hand Protection
Better Gripping
Adjustable – One size fits all. Worn with or without gloves
Postal Worker discount code: PS100
Order Online: www.palmharness.com
Phone: 248-886-0668
Solutions Dept. US Patent #6,834,397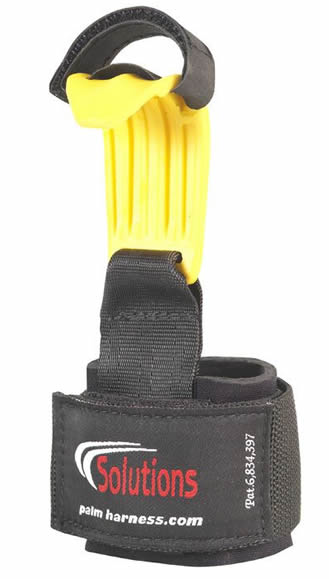 Palm Harness™ Postal (Yellow)
Palm Harness® Categories: